Willesden Overview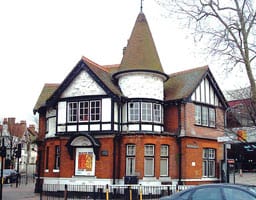 Willesden is a vibrant community in North West London, in the London Borough of Brent.
It is a thriving area with great transport links into central London and the rest of the city. Willesden is right next to Cricklewood, Kilburn, Queen's Park and Kensal Green.
The area has a population of 44,295 as of 2011 including the Willesden Green, Dollis Hill and Dudden Hill wards. Willesden Green has one of the city's highest Irish populations, and is also strongly associated with Latin Americans.
Travel information
In Willesden, you will find an array of public transport that serves the area. There are 2 London Underground stations, Willesden Green and Willesden Junction, the latter also serves as a London Overground and National Rail station. These stations can take you to places such as Wembley, Oxford Circus and Aldgate. You will also find plenty of buses that serve the area throughout the day and in the evening. Some of these bus routes include numbers 52, 98 and 260 which can take you to places such as Victoria, Holborn and Golders Green.
History
In Willesden's early history, from the 14th-16th century, it was a place of pilgrimage. This was because of the two ancient statues of the Virgin Mary the Church of St Mary. The area at the time and up to the industrial revolution was also a major supplier of apples, pears and vegetables to the city of London.
Up until 1875, Willesden remained mostly rural, however this changed when the Metropolitan Railway (later the Metropolitan Line) station of Willesden Green opened in 1879. By 1906 the population had grown to 140,000, a phenomenon of rapid growth that was to be repeated in the 1920s in neighbouring areas such as Harrow. The Metropolitan line service was withdrawn in 1940, when the station was served by the Bakerloo line, and later the Jubilee line.
The First World War caused Willesden to change rapidly, many factories started opening with numerous flats and terraced house. And to this day, Willesden has been shaped by patterns of migrations which marks it out as one of the most diverse areas in the United Kingdom.
Willesden went into a period of decline during the 1970s-80s as much of the housing was inadequate due to overcrowding as industry was mixed with housing. Most of central Willesden was earmarked for redevelopment; however, this did not come to fruition. In the late 1980s, traders were given money to revamp the High Street to prevent shops closing.
Since then the area has been revitalised.
Local attractions
There is a wealth of entertainment and activity to enjoy in this part of the London. From Museums to Escape Rooms, London living in Willesden is spot on.
Brent Museum
Whilst you're staying in Willesden, you may be interested in learning about the history of the London Borough of Brent. Brent Museum has a lot of material in order for you to learn about the area because they have collected over 10,000 objects over the past 50 years.
From oil paintings to toys and flapper dresses, the Brent Museum has collected objects which tell you all the fascinating stories of Brent and its people.
If this seems like something you're interested in, click here for more information.
BAPS Shri Swaminarayan Mandir (Neasden Temple)
This temple is the biggest Hindu temple outside of India. It was built by Pramukh Swami, a 92-year-old Indian Sandhu, and it is made out of 2828 tonnes of Bulgarian limestone and 2000 tonnes of Italian marble, which was first shipped to India to be carved by a team of 1526 sculptors.
If you would love to have a guided tour of BAPS Shri Swaminarayan Mandir, click here
.
Escape London – Shepherds Bush
Do you love a challenge? Then Escape London is the place to be!
You find clues, solve logic puzzles, break the codes and find the key to your freedom. Using your powers of observation and problem solving you and your team have to work together in order to escape the ROOM!
Lexi Cinema
Lexi Cinema is a wonderful, friendly single-screen cinema. It is run by enthusiastic local volunteers where every penny of profit goes to a charity in South Africa. The cinema shows a variety of everything from recent blockbusters to arthouse and foreign films.
If you're interested in seeing a great film at Lexi Cinema, click here
.
Accommodation
Willesden Residence – Click Here
Situated in a relaxed and friendly West London neighbourhood, this residence is ideally located to explore London. Willesden Junction Station is just a short walk away and is just 10 minutes away from the famous areas of Hammersmith, Kensington and Chelsea, or 15 minutes away from Euston Station. This friendly modern residence is made up of 120 affordable premium studios. Each studio features an en-suite bathroom, a kitchenette, a refrigerator with freezer, a microwave, and unlimited free Wi-Fi Internet.