King's Cross Overview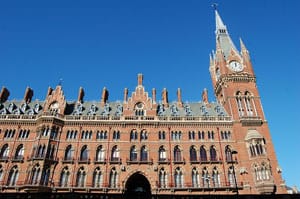 Although King's Cross is known for being a hub for transport, linking London to other parts of the country, as well as mainland Europe, it has recently been host to a number of developments that have regenerated the area, allowing it to become a great hub for a number of restaurants, bars and pubs!
So if you're looking to be in a very central and exciting part of London, King's Cross is the place to be!
Travel information
King's Cross is the hub of transport in London, possibly for the entirety of Great Britain.
King's Cross, Euston and St Pancras stations is where you can get to various places in and outside of London, so if you fancy a trip to one of the many wonderful places across Great Britain, definitely go to one of these stations!
King's Cross underground station is the best underground station to go to in order to get around London. King's Cross underground station is on the Circle, Hammersmith and City, Metropolitan, Northern Line, Piccadilly and Victoria lines which can take you to a number of locations including Camden Town, Westminster and Heathrow airport. You'll also find Euston underground station in the area which is on both of Northern line and Victoria line.
There are also a number of various bus routes in King's Cross which will get you around the city. Some of these include the bus route numbers 30, 73 and 91 which can get you to various places such as Marble Arch, Oxford Circus and Trafalgar Square.
History
The area was previously a village known as Battle Bridge or Battlebridge which was an ancient crossing of the River Fleet. The original name of the bridge was Broad Ford Bridge.
The current name has its origin in a monument to King George IV which stood from 1830 until 1845 at "the king's crossroads" where New Road (now Euston Road), Gray's Inn Road, and Pentonville Road met. The monument was 60 feet (18.28m) high and topped by an 11 foot high (3.35m) statue of the king; it was described by Walter Thornbury as "a ridiculous octagonal structure crowned by an absurd statue". The statue itself, which cost no more than £25, was constructed of bricks and mortar, and finished in a manner that gave it the appearance of stone "at least to the eyes of common spectators". The architect, Stephen Geary who exhibited a model of "the Kings Cross" at the Royal Academy in 1830. The upper storey was used as a camera obscura while the base housed first a police station, and later a public house. The unpopular building was demolished in 1845, though the area kept the name of Kings Cross.
Local attractions
Being in a very central part of London like King's Cross, you should have an array of things to do. From doing the heritage walk near King's Cross St Pancras to going to the Charles Dickens Museum, you should never be bored!
Platform 9 and ¾
You may not be a wizard or a witch on their way to Hogwarts like Harry Potter but you can still check out Platform 9 and ¾! Head to King's Cross station, you should easily be able to find it! Don't worry, a trolley is supplied for you!
Do it yourself heritage walk near King's Cross St Pancras
A lovely walk you should do to see the history of the King's Cross area. What was once a rather worn down part of London is now a flourishing, booming part of London, however, the history has not been forgotten and with this walk you'll be able to see the history with your own eyes.
Heritage highlights around Kings Cross St Pancras:
The German Gymnasium – built in 1864 for the German Gymnastics society, this was the first purpose-built gym in the UK. More to my liking, the gym is now a restaurant and bar.
Gasholder No. 8 – one of the original gasholders from the station's industrial days, it's now a park because, what else do you do with an empty gasholder? Apart from turn one into apartments, which is also a work in progress near Kings Cross. If you have the millions necessary to buy one, can I come around for tea to have a nose about?
The Granary – the previous function of this building is self-evident. Today it's home to the world famous Central Saint Martins art college. Have a peak inside to see how vast the granary once was.
For more information, click here
Charles Dickens Museum
If you're a big fan of Charles Dickens works, then you should definitely visit the Charles Dickens Museum which is the house he lived in which got turned into a Museum!
You'll get to see how he lived as well as his study where he worked and a number of other amazing things!
If you are interested in going to the Charles Dickens Museum, click here
Canopy Market
This market is a wonderful place in the heart of King's Cross. It is filled with amazing independent producers who sell local produce, specialty foods and artisanal goods. So if you're free on a Friday, Saturday or Sunday, you should definitely check Canopy Market out!
For more information, click here
Accommodation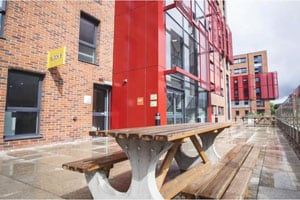 King's Cross Residence – Click Here
Centrally located just a short walk from fashionable Camden Town and King's Cross, this residence is ideal for city living in London. It is perfectly located for a number of London's leading universities and language schools. Locally you can find everything from an IMAX cinema to a large supermarket. The King's Cross residence boasts a wide range of facilities including an impressive roof terrace offering some fantastic views across London, two large common rooms, complete with table football, table tennis and a large flatscreen TV. There is also a separate study lounge perfect for catching up on coursework or revision.