No matter if you're a new or experienced Londoner, there are always some secret or beautiful places to discover in London! Here are some of them:
1. Highgate Cemetery, Highgate: It might seem like a pretty spooky place to loiter but the cemetery boasts stunning architecture, including Victorian chapels, the Lebanon Circle and Egyptian.
2. Chalcot Crescent, Primrose Hill: the belle of Primrose Hill, Chalcot Crescent is perfect in shades of pastel, and should be prettifying your Instagram in no time!
3. Ennismore Mews, Knightsbridge: A sleepy little escape from the hustle and bustle of Knightsbridge, Ennismore Mews looks more like a street in a quaint country village than a spot in central London.
 Source: Flickr
4. Neal's Yard, Covent Garden: It's stretching the definition of 'streets', but Neal's Yard is a wonderfully colourful spot. Oh, and unlike most of the others on this list, it's also a top spot for lunch.
5. Lancaster Road, Notting Hill: Lancaster Road is another rainbow-coloured Notting Hill beauty, and it's captured the hearts of many a wanderer. Hint: the famous bit is between Basing Street and All Saints Road.
 Source: Flickr
6. Shad Thames, Bermondsey: This neat little street near Tower Bridge is covered with aerial walkways, linking the (former) warehouses of Butler's Wharf to the riverside loading bays, back when cargo ships would dock in the area.
7. Leadenhall Market, City: This beautiful covered market dates back to the 1300s and played Diagon Alley in Harry Potter And The Philosopher's Stone.
8. Churchill Arms, Kensington: This famous pub's 190 hanging baskets, tubs and flower-pots make it a must-visit floral vision in the summer. And it's no less fascinating inside, with a singular 'Thai garden with WW2-era knick-knacks' design scheme.
 Source: Flickr
9. Dunstan in the East, City: After this church was bombed in the Blitz of World War 2, the authorities decided to leave it as a dedicated public garden.  Now overgrown, it's been left to stand in the City of London as a pleasant, moody spot for a picture-perfect lunch break.
10. The Great Conservatory, Syon House: Charles Fowler created Syon Park's Great Conservatory and broke the mould. He did away with the brown stone and instead used floor-to-ceiling glass that rests delicately on a metal frame.
11. Kyoto Garden, Holland Park: What is it about a waterfall that is so relaxing? Whatever it is, you can count on this colourful little corner of Holland Park to help you forget about the outside world.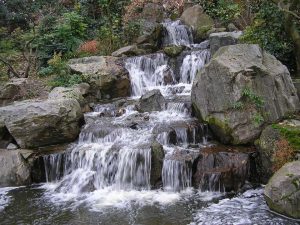 12. Shri Swaminarayan Mandir, Neasden: It's hard to believe that this magnificent temple is in London, and even harder to believe that all 5,000 tonnes of it were hand-carved (yes, carved by hand) in India before being assembled in London.
13. Shoreditch, Greater London: Shoreditch is one of the most lively areas of East London–and home to some of the most beautiful graffiti in the city.
14. Isabella Plantation, Richmond Park: This stunning garden is definitely a visual sight when you're in London. If you find yourself here, do try to hear for King Henry's Mound where you'll be rewarded with a spectacular view of St Paul Cathedral.
Sources: https://secretldn.com/london-sightseeing-things-to-see/
http://apeaceoflondon.com/the-30-most-beautiful-places-in-london-without-the-crowds/
We are London Homestays, an independent provider of student accommodation and English language tuition based in London, UK. In 2015, we received the British Council's Accreditation as an accommodation agency. Contact us if you're a student, trainee or intern and we will help you find a homestay or residence in London!